FAQ
Our lawyers answer frequently asked questions about car accidents and personal injury claims.
Best Lawyers in America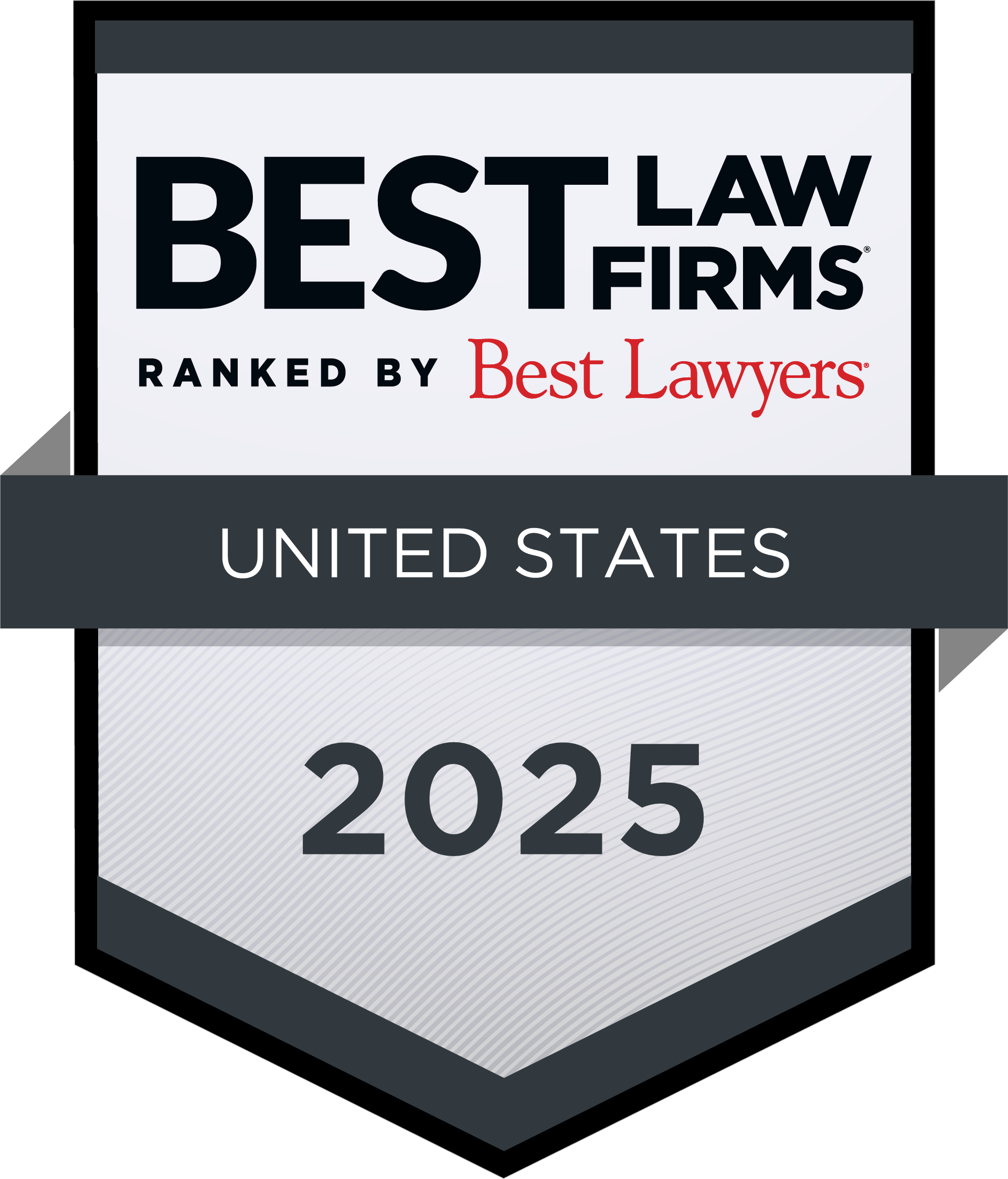 O'Steen & Harrison, PLC is recognized by U.S. News and World Report as one of the best law firms in America. Our firm was designated as a Tier 1 law firm in Personal Injury Litigation in the organization's "Best Lawyers - Best Law Firms" rankings for 2022.
Top-Rated Law Firm
O'Steen & Harrison, PLC is rated AV Preeminent by the prestigious Martindale-Hubbell Law Directory. This is the highest possible designation and is reserved for law firms with the strongest legal ability and highest ethical standards.
Frequently Asked Questions
Do I need a lawyer to handle my personal injury or Car Accident claim, or can I do it myself?
If you were injured in a car accident or other incident, you should at least consult an experienced personal injury lawyer. At O'Steen & Harrison, we will speak with you confidentially, for free and without obligation.
Insurance companies, like all other businesses, are entirely profit-driven. Because claims expenses reduce profits, insurance representatives are highly motivated—and trained—to settle claims for as little as possible. Contrary to their advertising claims, insurance companies do not have your interests at heart. If you are to receive everything you rightfully deserve for your injuries and other losses, you need someone who can stand toe-to-toe with these corporate giants. We have successfully represented thousands of injured accident victims for more than 50 years.
How do I learn whether or not I have a valid and collectible personal injury claim?
There are an array of defenses that insurance companies, other businesses and government agencies can raise to defeat your personal injury claim. An attorney experienced in accident injury law can evaluate your case and discuss with you likely defenses to it as well as applicable laws.
There is no substitute for a skillful lawyer's analysis of your injury claim, including consideration of all its strengths and weaknesses.
When should I contact a personal injury lawyer?
For various reasons, it is best to consult an experienced accident injury attorney as soon as practical following a car accident or other incident. Insurance companies begin their own investigations immediately upon notice of an insured's involvement in an accident which may give rise to a claim. You are best served by having your lawyer get a similar quick start on investigating the accident and your case.
Within a relatively short time, evidence can disappear, witness' memories may fade and you might make critical mistakes which could harm your claim.
Should I contact my own insurance company following a car accident?
Yes. Most insurance companies require that an insured give prompt notice to the company of any accidents. This typically applies to auto, homeowners, umbrella and other polices for which your carrier may have a responsibility to cover any losses. It also applies whether or not you were at fault for the car accident. Failure to give timely notice could result in cancellation of your coverage.
If your insurance company requests a written or recorded statement from you regarding the accident, you should consult an experienced personal injury lawyer before agreeing to do this.
Should I speak with representatives of the other party's insurance company?
You never should give an oral or written statement to an adjuster for the other party's insurance company. He or she has other sources of information to learn about the accident—their insured's account, police accident reports, witness statements, private investigations and more. The only reason for them to speak with you is to attempt to get you to say something that will harm your claim.
You also should not discuss your medical condition with an opposing adjuster, nor should you sign a medical records release from one. If you are contacted by one, politely tell him or her you are not comfortable discussing the matter. If you have retained a lawyer to represent you, tell this to the adjuster. The adjuster should, then, contact your attorney and not bother you again. This is one of the numerous advantages of having a lawyer represent you with your injury claim.
Should I see a doctor?
It does no harm to have a medical check-up following an accident. This is especially true if you experience any pain or discomfort. You may not even associate some injury symptoms with your accident. These include nausea, light-headedness, insomnia, difficulty concentrating, numbness in fingers, and others. Some injury symptoms may not appear for hours, or even a few days following an accident.
Insurance companies often contend that delays in seeking medical treatment after an accident are an indication that an injury was not caused by some other, later-occurring event.
If your doctor recommends a treatment regiment for you, it is important that you keep all your appointments. A failure to do so is potentially harmful to your health and your injury claim.
Should my health insurance company pay for my accident-related treatment?
Yes. This is the simplest and most efficient way to get the medical treatment you need. Depending on the type of insurance you have, and the specific terms of the of your policy, as well as other factors, you may be required to reimburse you carrier some or all of the expenses it paid if you receive a recovery from the insurance of the party at fault for your injuries. This can be complicated, and it frequently is negotiable. If you retain a lawyer to represent you with your injury claim, he or she will attend to this issue with the goal of maximizing your personal recovery.
Does my own insurance company have any responsibility to pay my medical expenses?
If you have medical payments coverage on your auto policy, your insurance company must reimburse you for all your accident-related medical expenses up to the limits of your coverage. This is so even if you obtain recovery from the other party to the accident. There are circumstances under which your insurance company may have a lien on your settlement with the party at fault for the accident. This can be complicated and may require a lawyer's assistance. If you choose to have us represent you with your injury claim, we handle all medical lien issues as part of our work for you.
Your own automobile insurance may also come into play if the party who caused the accident has no liability insurance, or inadequate coverage. We can assist you with making these claims, too.
What if the person at fault for the accident has no automobile insurance, or not enough insurance?
Questions of insurance coverage and personal collectability of people at fault for accidents can be highly complex. For example, a driver at fault for an accident who does now carry his or her own insurance may be covered by another person's policy. In addition, in some instances, an employer's insurance may cover an employee who caused the accident.
If you have uninsured motorist and underinsured motorist coverage under your own policy, you may be entitled to compensation from your insurance company.
Our attorneys explore every source of funds—insurance and otherwise—to see that you receive everything you rightfully deserve for your injuries and other losses.
How much is my Personal injury claim worth?
It is impossible for any lawyer, or anyone else, to answer this question in advance of thorough preparation of your claim. Many factors must be weighed in the course of evaluation of every personal injury claim. These include all the facts surrounding the accident, medical evidence of the extent of your injuries, and your present and future losses (monetary and others).
If I decide to go forward with a personal injury claim, will you handle my case on a contingent basis?
Yes. We are paid only if we win your case and you collect. Otherwise, you pay nothing—no fees and no expenses. We encourasge you to learn more about our discount fees for accident injury claims.
How much time do I have to make a decision about moving forward with my personal injury claim?
It is best to retain a law firm to represent you as soon as possible following an injury accident. Statutes of limitation and other legal notice requirements vary depending on several factors. If those legal deadlines expire, your claim may be permanently barred. Because a thorough investigation of your claim will require some time, it is wise to get started at the earliest possible time.
Furthermore, the sooner a claim is initiated, the sooner we can get compensation for you and your family.
Will I have to go to court?
A substantial majority of cases settle without requiring a trial, but only after we have thoroughly prepared the case and demonstrated to the insurance companies that we are ready and willing to try the case if necessary. In any event, the decision on whether to accept or reject any settlement offers made on your case is always yours.
How do I get started?
It's simple, just call us. We will answer all your questions in strict confidence and without any obligation. Then, if you choose to have us represent you, we will begin work on your injury case immediately.
We would like to help you, just as we have helped so many other people who were injured in accidents.
Remember, the law firm you choose makes a difference.
Our Accident and Injury lawyers Can Help You
Our injury lawyers and staff want to help you, in the unfortunate event that you need our help. Just e-mail or telephone us for a free, no obligation, confidential consultation.
For free answers to your injury-related legal questions, just complete our convenient online contact form.
The Law Firm You Choose Makes a Difference
In the largest injury case in the history of the world, we were selected as the only Arizona law firm to represent the State of Arizona against American tobacco companies for the past, present and future costs of treating tobacco-related illnesses. As a result, the State is expected to recover more than $3 billion.
Phoenix AZ Car Accident News
Three people were critically injured when two vehicles collided and rolled over at 7th Avenue and Bethany Home Road early Sunday morning.
A two-vehicle crash in South Phoenix left one person dead and two others hospitalized Friday afternoon.
An overnight crash involvint two Dodge Ram trucks near the I-17 and I-10 split in Phoenix claimed the life of Braulio Silva Rodriguez.