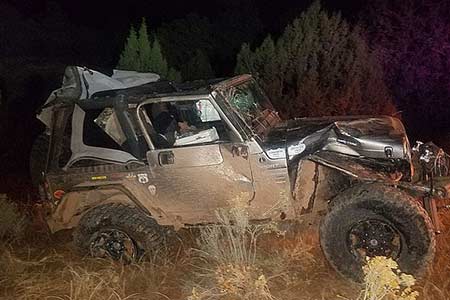 Rollover Accident Near Kingman Kills One, Injures Another
Kingman, Arizona—A family picnic ended tragically Tuesday afternoon when a vehicle overturned, killing one person and sending another to the hospital.  Two couples were driving home following an afternoon exploring the Mount Trumbull area, when occupants in the lead vehicle realized their friends were no longer behind them.  
They turned around to search and came upon the overturned Jeep.  Mohave County Sheriff's Office accident investigators surmise that the Jeep's driver failed to negotiate a turn, then rolled when it struck the soft shoulder.  The as-yet unidentified female passenger was lying in the road a few feet from the Jeep.  The friends performed CPR on the unresponsive man until Life Flight arrived and took over.  He was declared deceased at the scene. 
The woman was transported by air to a hospital where she is being treated for unspecified injuries.  Two dogs accompanying the couple in the Jeep were uninjured.  Friends took the dogs for safekeeping.      
The investigation is ongoing.
We extend our condolences to the victim's family and friends at this time of loss for them.   We wish the injured woman a swift and complete recovery.
Kingman, Bullhead City and Lake Havasu AZ Car Accident and Personal Injury News
A tour bus from Las Vegas crashed on its way to the Grand Canyon Skywalk on the Hualapai Reservation in Arizona. One person was killed and 42 others sustained injuries.
A close-knit community of bicycle riders on an organized ride celebrating the recent retirement of one of its members met with tragedy on Thursday morning when a box truck slammed into the group.
Two commercial vehicles collided on I-10 near Quartzsite on Thursday morning, leaving one driver dead and sending the other to a hospital.