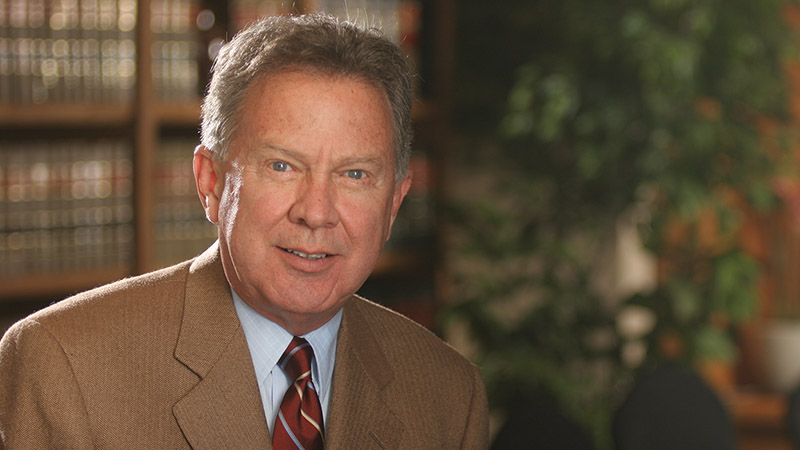 Van O'Steen
Van was a founding partner of O'Steen & Harrison, PLC, where he had a general civil practice, emphasizing personal injury, defective products and nursing home abuse and neglect. Van withdrew from full-time practice in 2022 and serves and an advisor to the firm.
He graduated from California Western University in 1968 (B.A.), where he was included in Who's Who In American Colleges and Universities. He graduated from Arizona State University College of Law in 1972 (J.D., cum laude). He served as an editor on the Arizona State Law Journal.
Van was admitted to the State Bar of Arizona in 1972 and is admitted to practice in the Supreme Court of Arizona, the United States District Court, the U.S. Court of Appeals for the Ninth Circuit, the U.S. Court of Claims and the United States Supreme Court.
He is past-president of the American Legal Clinic Association, past-chair of the American Bar Association Committee on the Delivery of Legal Services, a member of the ABA Consortium on Legal Services and the Public, a member of the American Association for Justice, the Arizona Association for Justice, and the Maricopa County Bar Association. He was a founding Director of the Arizona Center for Law In The Public Interest.
Van is av-rated (the highest rating) by the prestigious Martindale-Hubbell Law Directory. He also was voted—by other lawyers—for inclusion in The Best Lawyers in America Consumer Guide.
Van is profiled in the publication Who's Who in American Law . For many years, he wrote a weekly legal advice column that appeared in various Arizona newspapers, and he is the author of numerous self-help packets which enable consumers to attend to many of their own legal needs without having to hire a lawyer.
In 1977, Van went to the U.S. Supreme Court and won the landmark case permitting lawyers, doctors and other professionals to advertise their services and fees. As a result of this important consumer victory, the costs of legal services have declined.
Van was born in Tennessee in 1946 and moved to Arizona in 1959.
Contact
O'Steen & Harrison, PLC
300 W. Clarendon Ave., Suite 400
Phoenix, Arizona 85013
602.252.8888
602.274.1209 fax