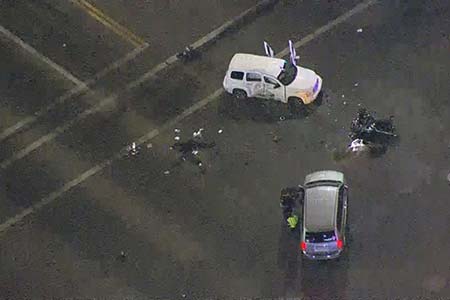 Motorcycle Accident in Glendale Injures Two
Glendale, Arizona—Two people are hospitalized in critical condition after the motorcycle they were riding collided with a van on Tuesday night. 
According to Glendale Police reports, a motorcycle carrying two as-yet unidentified people struck a van that turned in front of them at the intersection of 67th and Glendale Avenues.
We wish swift and full recoveries for those who were injured.
Arizona Motorcycle Accident News
Peoria Police officer Jason Judd died from injuries he received in a motorcycle crash at a youth training camp on Wednesday morning..
A motorcyclist is dead after a collision between a motorcycle and private bus in Phoenix. The accident occurred yesterday at about 11:00 a.m. at the intersection of 3rd Avenue and Osborn Road.
A motorcycle accident in Phoenix on Sunday afternoon has claimed the lives of Jessie Andrade and Aracely Arvizu-Hernandez.