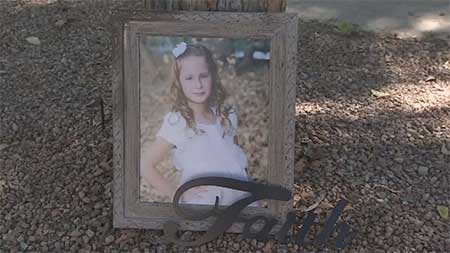 Amanda Cook Killed in Rollover Accident Outside Yuma
Yuma, Arizona—Seven members of a Queen Creek family were on their way to Yuma to deliver loaves of bread for a fundraiser when the driver lost control, causing the vehicle to roll.  The accident occurred Saturday on Interstate 8 just outside Yuma.
According to Arizona DPS accident investigators, Amanda Faith Cook, age 8, had just unbuckled her seatbelt to pick up something on the floor of the car when the vehicle rolled and she was ejected.  It is unclear what caused the driver, her 16-year-old sister, to lose control of the car.
Amanda was transported to Yuma Regional Medical Center where she later died of her injuries.
The Queen Creek family is formerly from Yuma.
Randy Crum, the young girl's uncle, described Amanda as happy and bubbly.  "She loved to sing," he said.
We extend our condolences to Amanda's family and friends over this tragic loss.
A GoFundMe page has been established to help the Cook family with funeral costs.
Phoenix AZ Car Accident News
Roberto Manriquez, Jr. and Alexandria Mendez were killed on Friday afternoon when a semi-truck crossed the cneter line and collided with the Ford F-150 they occupied.
Detectives with the Phoenix Police Department are searching for the driver of a vehicle that hit and killed Alem Berhe.
Andrew Worth was killed on Friday after his motorcycle was hit at the intersection of 53rd Avenue and Indian School Road in Phoenix.