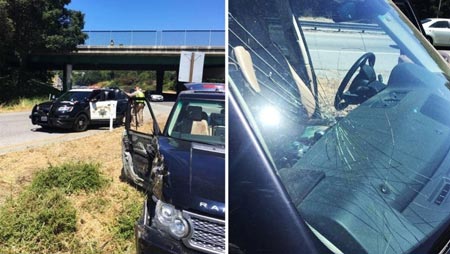 Hannah Milkowski Killed Following Accident in Santa Clara, California
Live Oak, California—Speeding on a tireless rim in search of medical help for his passenger who was injured when his vehicle crashed, an intoxicated driver continued down Highway 17 until a second collision finally stopped him.
Hannah Milkowski, age 26 from Arizona, and Kristofor "Kris" Benson, age 38 of Scotts Valley, California were headed to the beach for a day of surfing on June 4th.
According to the California Highway Patrol, Mr. Benson crashed his Range Rover into a power pole near Morgan's Run in Scotts Valley.  Ms. Milkowski struck her head on the windshield.
Rather than calling for emergency medical assistance, Mr. Benson continued south on Highway 17 in search of a medical facility.  He exited Highway 17 at the Soquel Drive ramp, stopping only after crashing his heavily damaged Range Rover a second time.
Emergency medical personnel pulled Ms. Milkowski from the back seat and administered CPR.  She was air evacuated to Santa Clara Valley Medical Center in San Jose.  She died a week later after life support was removed.  Benson suffered minor injuries.
Benson was arrested and jailed on suspicion of DUI.  He was released after posting bail. Benson then fled when three felony charges were filed on June 9th. An arrest warrant has been issued for gross vehicular manslaughter while intoxicated.  
We extend our condolences to the family and friends of Ms. Milkowski over this tragic loss.
Phoenix AZ Car Accident News
Raymond Lounsbury died as the result of injuries he received when he was struck while crossing the street at Union Hills Drive and 43rd Avenue in Phoenix on Sunday evening.
Denise Cruz was killed and her one-year-old daughter seriously injured in a three-vehicle car accident. The crash occurred this morning at around 9:00 a.m. on 19th Avenue near Buckeye Road in Phoenix.
Eric Merrill was killed in a rollover accident that occurred on Palo Verde Road near Interstate 10 in Buckeye.