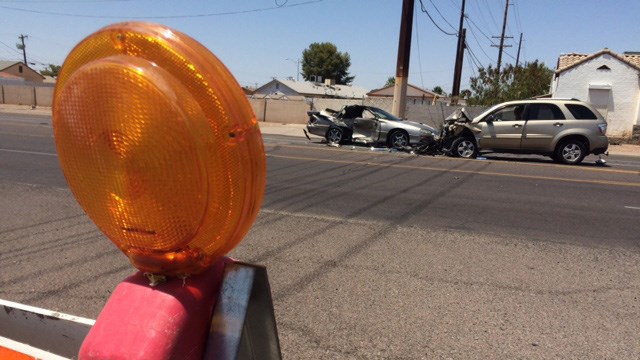 Jonathan Guardad Killed in Street Racing Crash
Phoenix, Arizona—Jonathan Guardad, age 17, was killed in an accident that may have resulted from street racing near 47th Avenue and Thomas Road on Sunday morning. Phoenix Police accident investigators report that a 23 year old man lost control of his Chevrolet Camaro and spun into oncoming traffic.  Witnesses report that the Camaro was racing with another vehicle immediately preceding the incident.
A Chevy Equinox struck the Camaro's passenger side, gravely injuring Mr. Guardad.
Following the collision, passengers of the Equinox quickly snatched beer from the car and fled on foot.  One of those passengers, Refugio Gonzalez, was captured and booked into jail on an outstanding warrant.  The others remain at large.
Both occupants of the Camaro were transported to a nearby hospital.  Mr. Guardad succumbed to his injuries, while the driver's survival is uncertain.
Both drivers showed signs of impairment, though the Camaro's driver may face homicide charges, if he survives.

We extend our condolences to the family and friends of Mr. Guardad at this time of great loss for them.
Phoenix AZ Car Accident News
Three people were injured in a car accident at 48th Avenue and McDowell Road on Sunday morning.
A driver going the wrong way on a highway south of Phoenix struck another vehicle head-on late Sunday night, killing Ma Ponce of Mesa.
An officer with the Phoenix Police Department is recovering from injuries she sustained after a car accident at 24th Street and Southern last night.