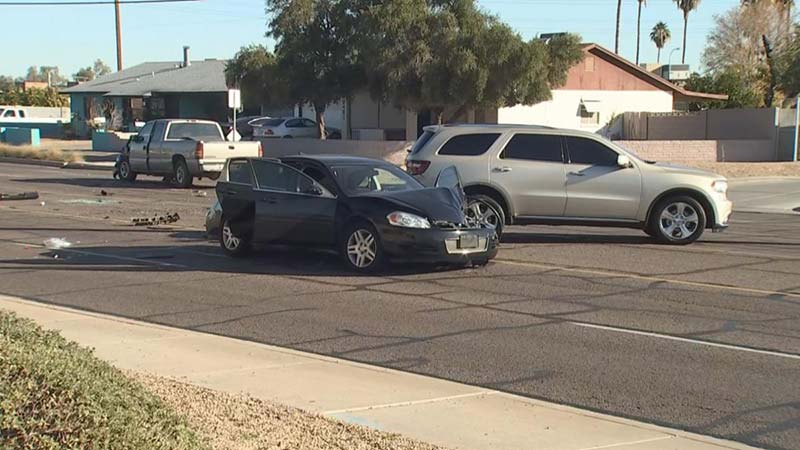 A'Mille Sanchez Injured Following Serious Car Accident
Phoenix, Arizona—An Infiniti SUV southbound on 43rd Avenue near Peoria Avenue caused a four-vehicle accident on Monday morning as students were arriving for class at North Pointe Preparatory School.  According to Phoenix Police accident investigators, Clint Rasho, age 40, was traveling in the two-way left-hand turn lane of 43rd Avenue where two vehicles were stopped, waiting to turn left into a private drive.
Rasho's Infiniti first hit a Chevy Impala driven by a 38-year-old woman with her four children in the vehicle.  The children were ages 9 to 15 years.  In turn, the Impala rear-ended a Dodge Durango, then spun into the northbound lanes where it was struck by a GMC truck.
One of the occupants of the Impala, A'Mille Sanchez, a 12-year-old student at North Pointe Preparatory School, was transported to a nearby hospital with serious injuries.

Rasho initially fled the scene but police quickly located him.  He was booked into Fourth Avenue Jail on charges of aggravated assault, endangerment and failure to remain at the scene of an accident.
Initial reports indicate that A'Mille's recovery is going well.  We wish her continued success.
Phoenix AZ Car Accident News
A domestic violence situation in Phoenix turned deadly when Eric Maes, the non-custodial father, attempted to take his son from the child's mother, Brittany Martie.
Romsen Badalpour was killed on Friday in a wrong-way crash in Phoenix.
A hit-and-run collision on SR-202 in Laveen left one person dead on Sunday afternoon.