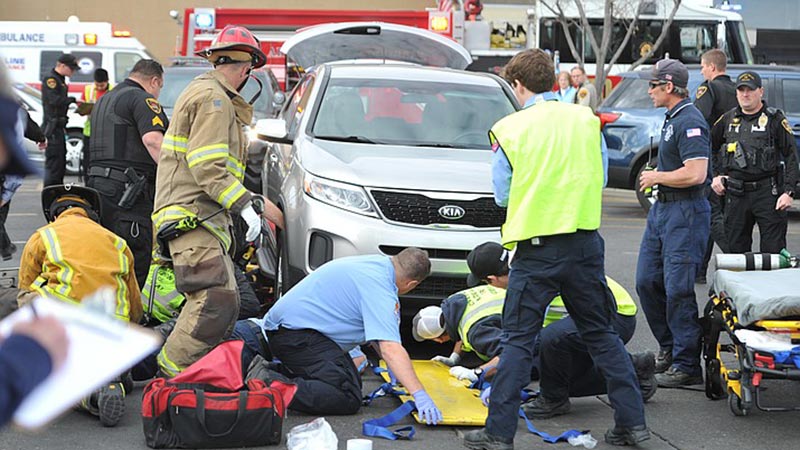 Esther Dorsch Run Over at Fry's Parking Lot in Prescott Valley
Prescott Valley, Arizona—Esther Dorsch, age 101, was struck by a 2015 Kia SUV while walking in the parking lot at the Fry's Food and Drug on Glassford Hill Road in Prescott Valley. Ms. Dorsch was trapped underneath the SUV and had to be extricated by emergency responders with Central Yavapai Fire and Medical. She initially was taken by ambulance to Yavapai Regional Medical Center before being flown to a hospital in Phoenix for further treatment. Ms. Dorsch reportedly is in stable condition.
The accident was investigated by the Prescott Valley Police Department. Accident investigators have identified Sandra Nagy, age 83 of Prescott Valley, as the driver of the Kia SUV.
In February 2016, The Daily Courier profiled Ms. Dorsch in a story about The Interfeath Outreach in Prescott Valley, where she was active and socialized with others in the community.
We wish Ms. Dorsch a speedy and complete recovery from her injuries.
Prescott AZ Car Accident and Personal Injury News
Ingrid Hovis died on Wednesday from injuries she sustained in a car accident in Prescott Valley last week.
Jesse Gerhardt, Jr. and Tamara Kelley sustained serious injuries in a motorcycle accident on Sunday at Gurley Street and Overland Trail in Prescott.
A motorcycle accident that occurred on Friday afternoon on Highway 89A near Prescott Valley has claimed the life of Christopher Steffes.