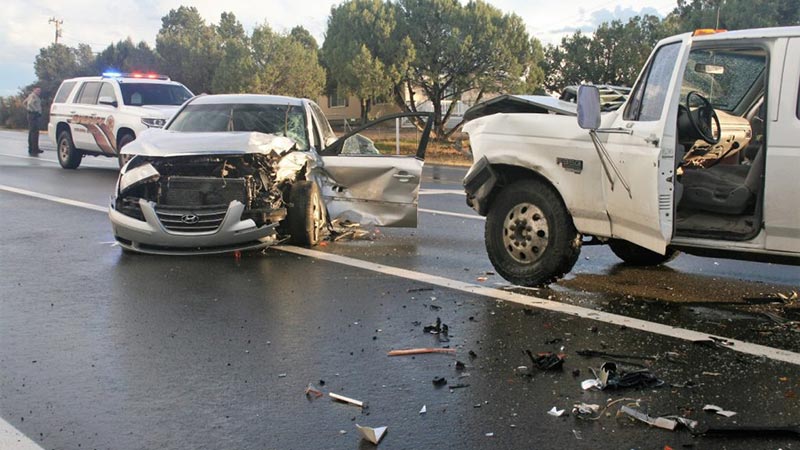 Car Accident Seriously Injures Grandmother and Two Grandchildren
Prescott, Arizona—A Prescott grandmother and her two grandchildren were seriously injured when their car was broad-sided by a pickup truck Tuesday afternoon. Yavapai County Sheriff's deputies were summoned to the scene at Williamson Valley Road and Hootenanny Road around 4:00 p.m.
According to their report, a Hyundai Sonata driven by a 75 year old as-yet unidentified woman collided with a Ford F-350 pickup truck driven by an 18 year old man from Prescott Valley.  
The woman was transported by air to a hospital in Phoenix in critical condition.  Her 10 and 6 year old grandchildren were transported to Phoenix Children's Hospital with a jaw fracture and head injury, respectively.  A three year old grandchild, also in the car, sustained minor injuries.
The pickup truck driver and his passenger sustained minor injuries.  The accident investigation continues
We wish speedy and full recoveries for everyone involved.
Prescott AZ Car Accident and Personal Injury News
A motorcycle accident that occurred on Friday afternoon on Highway 89A near Prescott Valley has claimed the life of Christopher Steffes.
Sarah Buntin and Nicole Nanni died when their Toyota MR2 collided with a Jeep Cherokee just outside Chino Valley late Monday afternoon.
A 14-year-old boy was hit and killed this morning as he attempted to cross Spouse Drive near the intersection with Robert Road in Prescott Valley.