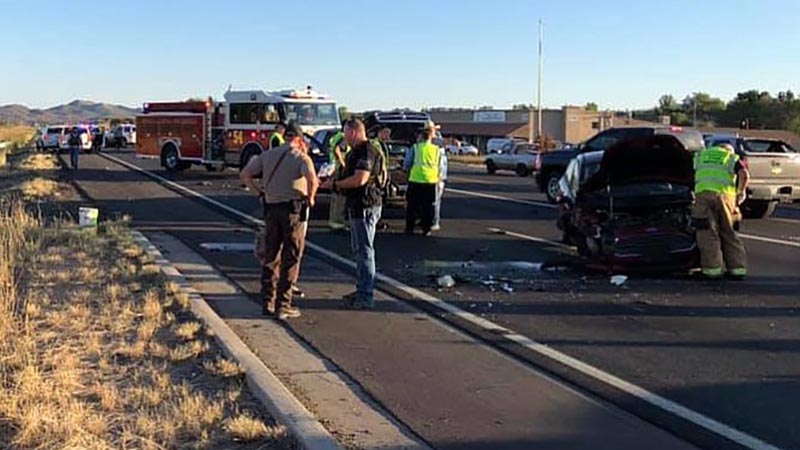 Stolen Car Causes Five-Vehicle Accident, Two Taken to Hospital
Dewey, Arizona—Two people are in the hospital as the result of a five-vehicle accident caused by a man driving a stolen car.  Law enforcement personnel were pursuing the car when it collided with the other vehicles at the intersection of SR-69 and Kachina Place in Dewey-Humboldt on Thursday night.
The Central Arizona Fire and Medical Authority responded to the scene to evaluate five people injured in the crash.  Two were transported to Yavapai Regional Medical Center in Prescott Valley with injuries of varying severity, none of which was life-threatening.
The driver of the stolen vehicle has been identified as Bradley Farley, age 25 from Sun City, Arizona.  Farley attempted to flee the scene.  Several people in the vicinity apprehended him.  Farley has been charged with multiple offenses.
No additional information presently is available regarding the names or medical conditions of the injured.
We wish swift and complete recoveries for those who were injured.
Prescott AZ Car Accident and Personal Injury News
A 14-year-old boy was hit and killed this morning as he attempted to cross Spouse Drive near the intersection with Robert Road in Prescott Valley.
Paul Parona died from injuries he received in an accident while riding his motorcycle near the Frontier Village Shopping Center on Highway 69 in Prescott.
A Prescott grandmother and her two grandchildren were seriously injured when their car was broad-sided by a pickup truck on Thursday afternoon.