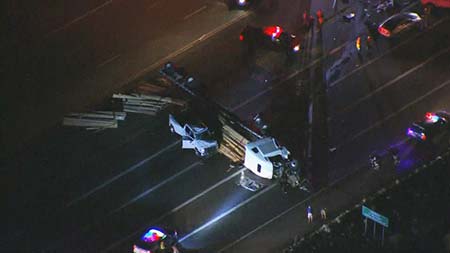 Kaillie Plante and Nicholas Minard Killed, Four Injured in Semi-Truck Accident
Scottsdale, Arizona—Nicholas Minard, age 15 of Fountain Hills, and Kaillie Plante, age 14 of Pine, were both killed on SR-87 when the driver of a lumber truck ran a red light and struck two passenger vehicles. Those two vehicles were propelled into two other vehicles.  The tragic accident occurred at Shea Boulevard near Scottsdale.
Four other people, as-yet unidentified, were seriously injured in the crashes.
The semi-truck rolled after striking the SR-87 median, losing its load of lumber.
We wish to express our sympathy to the families and friends of the two young people who tragically died in these crashes.  We wish speedy and complete recoveries for all those who were injured.
Arizona Truck Accident News
Accident investigators with the Lake Havasu City Police Department report that an as-yet unidentified female motorcyclist was killed in a collision with a semi-truck.
Accident investigators are not certain what caused a semi-truck to overturn and come to rest on top of the concrete median separating the east and westbound lanes of I-10 in Chandler.
A head-on collision between two semi-trucks outside Wickenburg claimed the lives of both drivers early Tuesday morning.