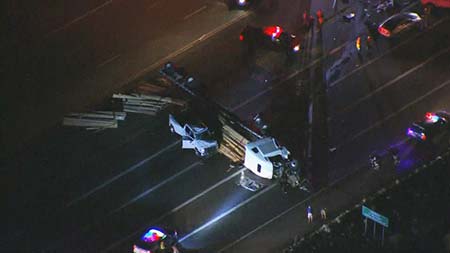 Kaillie Plante and Nicholas Minard Killed, Four Injured in Semi-Truck Accident
Scottsdale, Arizona—Nicholas Minard, age 15 of Fountain Hills, and Kaillie Plante, age 14 of Pine, were both killed on SR-87 when the driver of a lumber truck ran a red light and struck two passenger vehicles. Those two vehicles were propelled into two other vehicles.  The tragic accident occurred at Shea Boulevard near Scottsdale.
Four other people, as-yet unidentified, were seriously injured in the crashes.
The semi-truck rolled after striking the SR-87 median, losing its load of lumber.
We wish to express our sympathy to the families and friends of the two young people who tragically died in these crashes.  We wish speedy and complete recoveries for all those who were injured.
Truck Accident News
Eight people are dead and dozens more injured after a Greyhound bus headed for Phoenix collided with a semi-truck in northwestern New Mexico on Thursday afternoon.
An accident involvin a semi-truck on I-17 near Sunset Point last Friday has claimed the life of Harry Bates and resulted in serious injuries to Tammy Knaak.
DPS responded to an accident involving a rolled semi-truck in the eastbound lanes of I-40 outside Flagstaff on Tuesday morning.