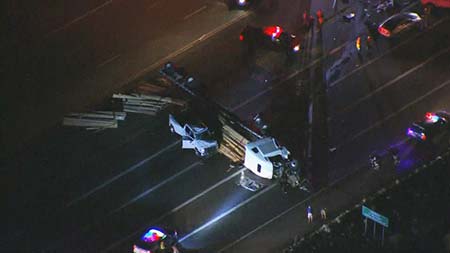 Kaillie Plante and Nicholas Minard Killed, Four Injured in Semi-Truck Accident
Scottsdale, Arizona—Nicholas Minard, age 15 of Fountain Hills, and Kaillie Plante, age 14 of Pine, were both killed on SR-87 when the driver of a lumber truck ran a red light and struck two passenger vehicles. Those two vehicles were propelled into two other vehicles.  The tragic accident occurred at Shea Boulevard near Scottsdale.
Four other people, as-yet unidentified, were seriously injured in the crashes.
The semi-truck rolled after striking the SR-87 median, losing its load of lumber.
We wish to express our sympathy to the families and friends of the two young people who tragically died in these crashes.  We wish speedy and complete recoveries for all those who were injured.
Arizona Truck Accident News
Two commercial vehicles collided on I-10 near Quartzsite on Thursday morning, leaving one driver dead and sending the other to a hospital.
Bobbie Rincon of Phoenix and two of her children, Javier Rincon, age 11, and Alicia Rincon, age 6, were killed in a tragic accident on SR-85 near Gila Bend.
A semi-truck westbound on Interstate 40 slide down a 60-foot embankment between Bellemont and Flagstaff.