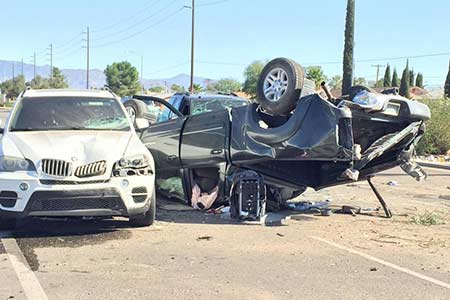 Beverly Jones Killed in Hit-and-Run Accident Involving Four Vehicles
Tucson, Arizona—Beverly Jones, age 60, died of injuries she received when her pickup truck was hit from behind at a high rate of speed on Wednesday afternoon.
Tucson Police Department accident investigators report that a white Ford F-150 pickup truck was speeding eastbound on 22nd Street between Wilmot and Craycroft roads when it rear-ended a green Toyota Tundra.  The Tundra, driven by Ms. Jones, spun out of control.  The spinning Tundra struck a raised median and flipped over into oncoming traffic, where it was struck by two more cars.
Ms. Jones died shortly after being admitted to Banner University Medical Center.  A person from one of the other cars was transported to the hospital with minor injuries.
Tucson Police say that Matthew Gallaher, age 30, drove away from the collision he caused and abandoned his truck a few blocks away.  He was arrested at his residence and booked into Pima County Jail on a felony charge of leaving the scene of a fatal accident.  Additional charges are pending.
Our sympathies are with the family and friends of Ms. Jones over this tragic loss for them.
Tucson AZ Car Accident and Personal Injury News
Rodney Smith died of injuries he received when his golf cart collided with a Jeep on Monday afternoon.
An as-yet unidentified male pedestrian was killed as he crossed a city street on Monday night.
A single-vehicle accident outside Vail left one person dead and another person seriously injured this morning.