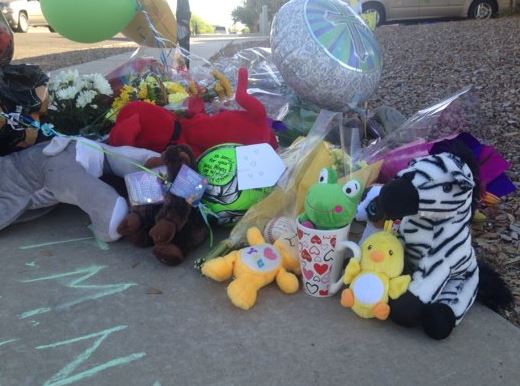 Denver Greenberg Killed While Riding Scooter
Tucson, Arizona—Denver Greenberg, age 3, was hit and killed by a pickup truck while riding his push scooter on an early evening walk around the neighborhood with his father and brother following him.  Denver entered an unmarked crosswalk just as a truck turned left onto East Banbridge Street.
Tucson Firefighters were on the scene in less than one minute, but could not save the young boy.

A memorial of stuffed animals, balloons and other toys quickly grew at the site in Rita Ranch.
Tucson Police accident investigators did not cite the truck driver, who remained at the scene.  The investigation, however, remains open.
We extend our condolences to the Greenberg family and friends over this tragic loss of one so young.
Tucson AZ Car Accident and Personal Injury News
Witnesses to an accident near Mona Lisa Road reported seeing a male on the hood of a car that was westbound on Ina Road in Tucson.
Two pickup trucks collided on Aviation Parkway near 22nd Street on Monday morning, sending one driver to the hospital with life-threatening injuries.
Two people in a pickup truck occupied by seven were killed when the truck was pursued by a Border Patrol agent and crashed into the northbound lanes of Interstate 19 near Canoa Road outside Tucson..